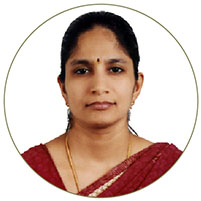 Dr. Sujatha Rajendran, BAMS, RH
Sujatha Rajendran is accredited with Ontario Herbalists Association as Registered Herbalist (RH). She has 20 years' experience in the field of Ayurveda practicing in Chennai, India and Dubai, United Arab Emirates before moving to Canada. She completed her formal education in Ayurveda, after 5 ½ years of rigorous training, and graduated as Bachelor in Ayurveda Medicine & Surgery from Dr. MGR Medical University, Chennai, India. She gained vast practical experience during her internship with Dr. Arganr Anna Govt. Hospital and Dhanya traditional health care Centre in Chennai. She also had the privilege of working as intern under great traditional family Ayurveda practitioners.
She has also attended and completed advanced course in Varmalogy conducted by Thirumoolar Varmalogy Institute, Coimbatore, India. She has gained practical experience and tremendous insights in to Varmalogy under Dr. N. Shunmugom, Ph.D., a leading authority on the subject.
Sujatha Rajendran is affiliated to Tamil Nadu Board of Indian Medicine as professional Member. She was also evaluated and permitted to practice as Ayurveda consultant by Govt. of Dubai and Ministry of Health, UAE.
Based on Ayurveda and Varma, holistic understanding of human anatomy and physiology, and based on the professional and traditional knowledge of herbal remedies, varmalogy and yoga, she has treated many chronic ailments.
CALL US TODAY TO FIX AN APPOINTMENT.
+1 647 984 9995